Email:denya@chun-wang.com
Address:Chunwang Industrial Park, Tongle Sixth Industrial Area, Longgang District , Shenzhen, China.
DMF Free desiccant
Weight:1g
Optional weight:1-1000g
Packing material:Aiwa paper
Print:English、Chinese
Raw material:silica-gel



Introduction
DMF Free desiccant is a high-activity absorbing material in the form of granules or spheres of various sizes.
Its chemical name is Silicon Dioxide (SiO2). It is odorless, tasteless, and non-toxic. Chunwang silica gel desiccant offers an excellent capacity for physical dehumidification because of its good absorbability, chemical stability, wide surface area and high mechanical strength.
Blue silica gel will change color into pink variably according to the quantity of Moisture absorbs, and orange silica gel will change color into green .They are generally mixed together to indicate the Saturation degree of desiccant.
Silica gel desiccant is the most common type of moisture absorbent in the market and it is widely used for various kinds of industries.

Raw material
Fine silica gel bead ( white ,blue and orange)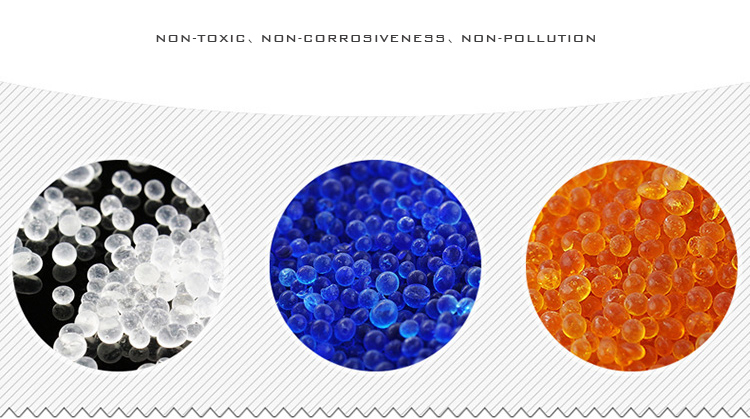 Chemical Data
Ingredient

Content(%)

Ingredient

Content(%)

SiO2

99.6

Na2O

0.17

Fe2O3

0.02

MgO

0.01

CaO

0.04

Al2O3

0.16

Blue Silica Gel including 3‰-5‰ cobalt chloride, Orange Silica Gel including 0.9‰methyl violet (Eco-friendly)
Parameters
Granularity qualified rate

>86%

bulk density

>750g/L

Moisture absorption rate

T=25℃,RH=80%

≥30%

Water Content

≤5%

PH

4-7

Recommend Dosage

1.67g/L-2g/L
Adsorption rate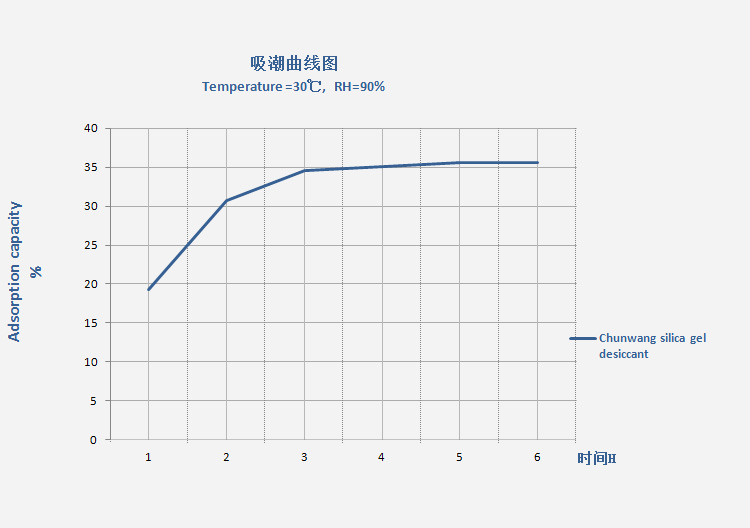 Advantages
1)Moisture absorption rate over 30%;
2)No physical forms changed after moisture absorbing, nontoxic, no harm, no pollution;
3)3.Good heat stability, strong mechanical strength;
4)4.Widely used in shoes, hats, leathers, handbags, food, medicine, metals, toys, bamboo and wood, instruments, electronics, etc.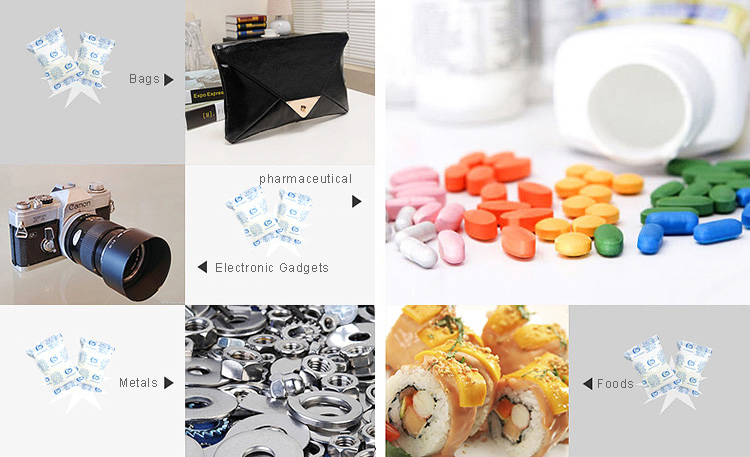 Why Us?
1)Chunwang desiccant has a good adsorption capacity.
2)Chunwang has a full range of desiccant. Like silica gel, calcium chloride, clay, activated carbon, Molecular sieve. We always pursue that give a better solution for customer. If your products are high-precision instruments, we suggest you use Montmorillonite clay, not silica gel.
3)We always insist that quality win a customer. We had a strict raw material selecting procedure.
4)For almost 2 decades committements makes a good quality and reputation .
5)Chunwang desiccant comply with Mil-D-3464E, GJB2714, and DMF free, RoHS, REACH.
6)Chunwang Company has passed the BSCI Audits, Watson Audits, ISO9001, ISO14001 etc.
Our customers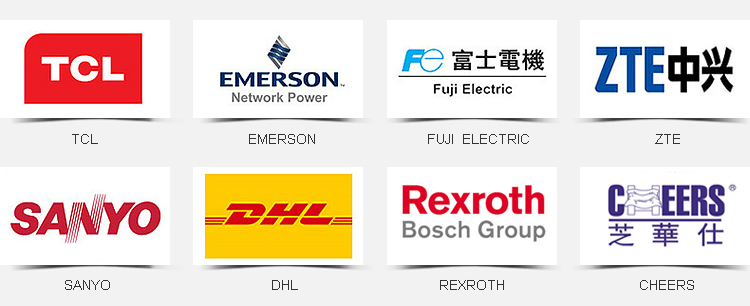 Inspection report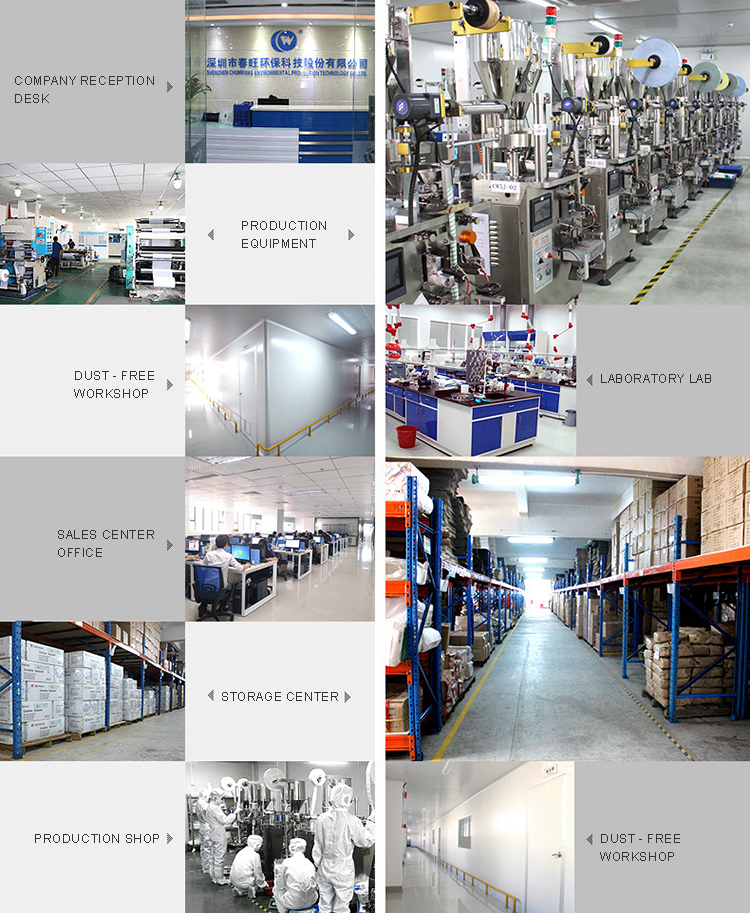 Chunwang VR: http://desiccant.chun-wang.com/chunwang_vr.html
*

Name:
Company name:
TEL:
Mobile:

*

E-mail:
Contact address:

*

Inquiry:
Please fill in the product name and quantity you want to inquiry.
VerCode:
Material: Silica gel
Standard: Pharmaceutical grade
Optional weight: 0.5g/ 1g/ 2g/3g/5g
Size: 20x36 mm(0.5g)
20x40 mm(1g)
20x55 mm(2g)
Packing material: Tyvek paper
Printing: English
Packaging: 15000PCS/12500PCS/7500PCS/5000PCS/3000PCS/CTN
Material: Silica gel bead
Standard: Pharmaceutical grade
Optional weight: 0.5g/ 1g/2g/3g/5g
Size: 17x36mm (0.5g)
20x40mm (1g)
20x55mm (2g)
28x55mm (3g)
28x65mm (5g)
Packing material: Tyvek paper
Printing: English
Packaging: 15000 PCS/12500PCS/6000PCS/4000PCS/3000PCS/CTN
Type:anti-oil film food grade desiccant
Raw material:food grade silica gel bead
Spec:0.5g/1g/2g
Size:20*36/20*40/20*55m
Packing material:Oil-proof OPP
Feature: oil and dust proof
Printing:English
Relevant Articles: