Email:denya@chun-wang.com
Address:Chunwang Industrial Park, Tongle Sixth Industrial Area, Longgang District , Shenzhen, China.
Pharmaceutical desiccant Bags (Back seal fuse type)
Material: Silica gel
Standard: Pharmaceutical grade
Optional weight: 0.5g/ 1g/ 2g/3g/5g
Size: 20x36 mm(0.5g)
20x40 mm(1g)
20x55 mm(2g)
Packing material: Tyvek paper
Printing: English
Packaging: 15000PCS/12500PCS/7500PCS/5000PCS/3000PCS/CTN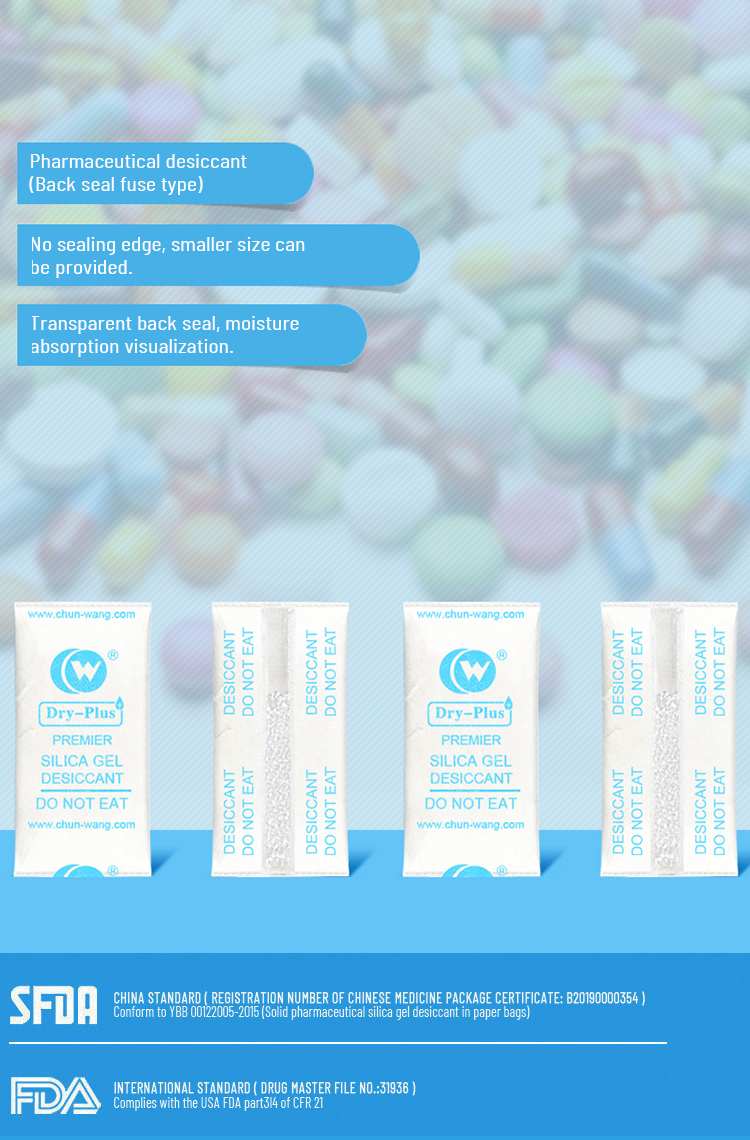 GMP Technological Process
GMP(GOOD MANUFACTURING PRACTICES), GMP requires pharmaceutical and food manufacturers to have good production equipment, reasonable production process, perfect quality management and strict testing system, to ensure that the final product quality meets the requirements of laws and regulations.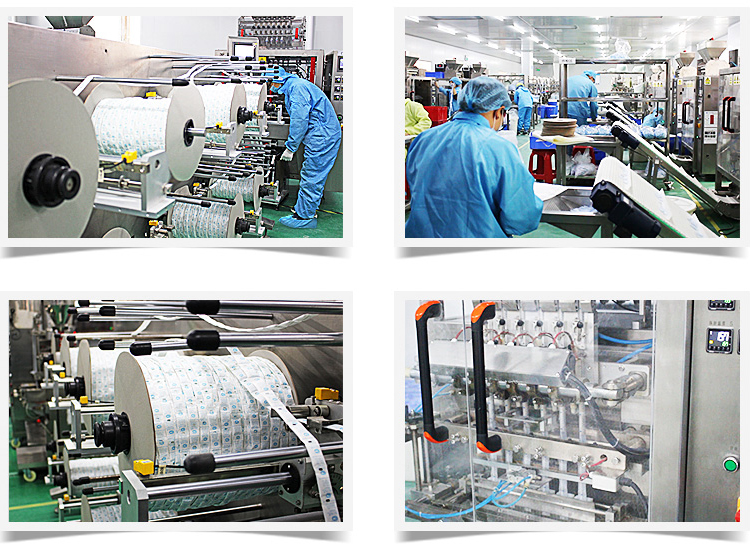 Production and Testing Environment
Chunwang has 100,000 class clean dust-free production workshops and a clean laboratory equipped with advanced testing equipment to ensure that the desiccant produced can meet the requirements of Pharmaceutical grade.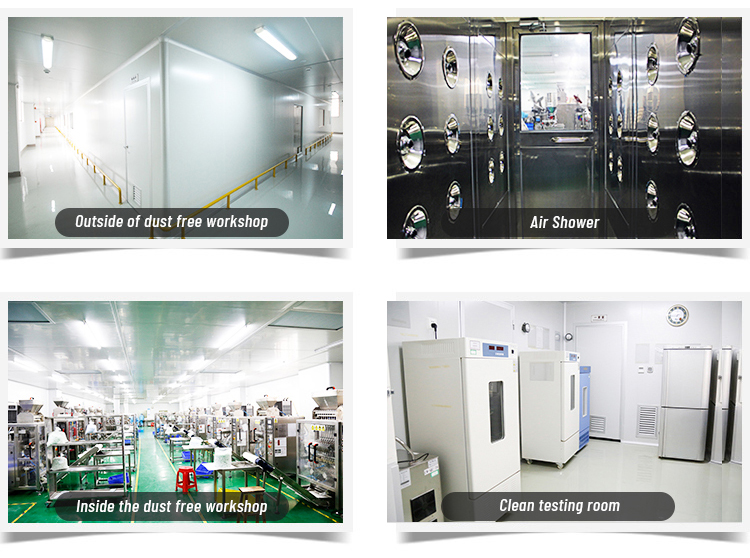 GMP Certificate
The production of pharm desiccant of Chunwang meets GMP requirements and has GMP Certificate.
* The latest certificate (within the validity period) can be provided by contacting our customer service staff.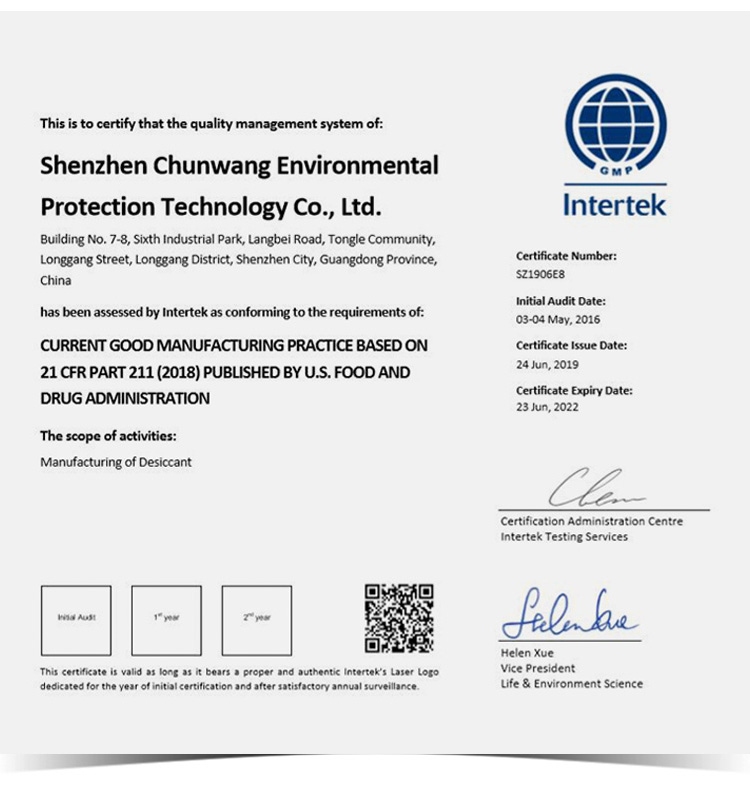 Product Raw Material
Silica gel as the adsorption carrier, the character is stable, non-toxic, tasteless, non-corrosive, pollution-free.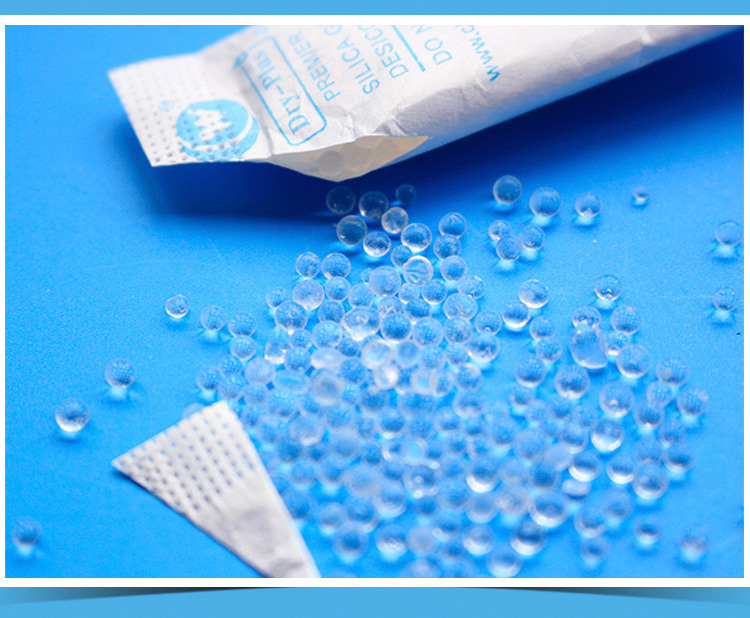 Lab Data
Using high quality silica gel desiccant raw material with moisture content ≤3%, Moisture absorption can be more than 30% when T=25℃ RH= 90%.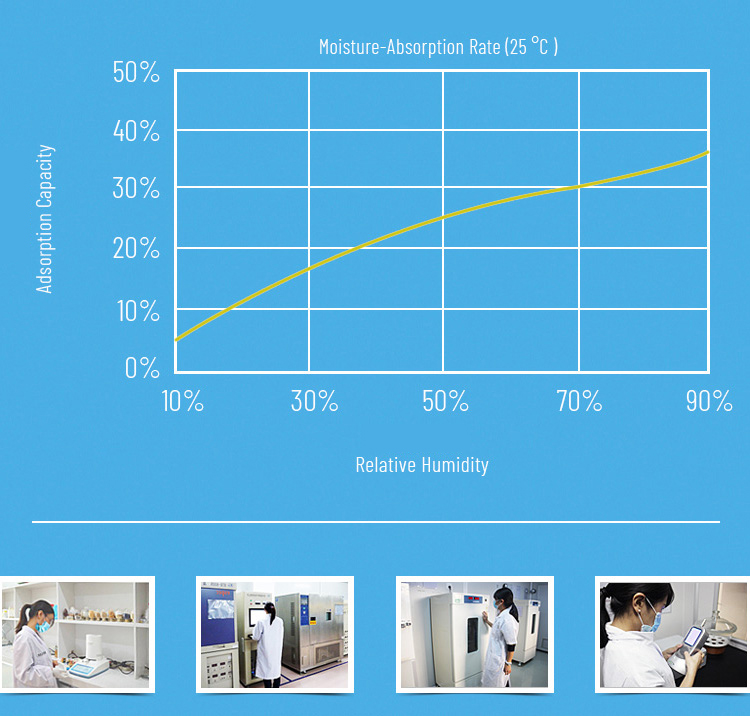 Package Materials
Tyvek paper: ① good air permeability, ② tear resistance, ③anti-aging, lint-free, ④Acid and alkali resistance, ⑤ dust proof.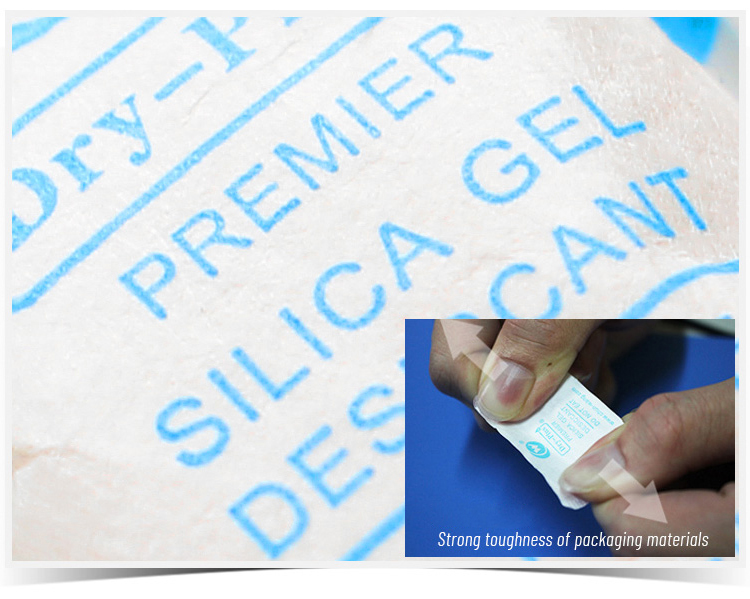 Printing Ink
It adopts water-based ink printing in accordance with US FDA 21CFR, which is safe and reliable, and the text is clear and color does not fade.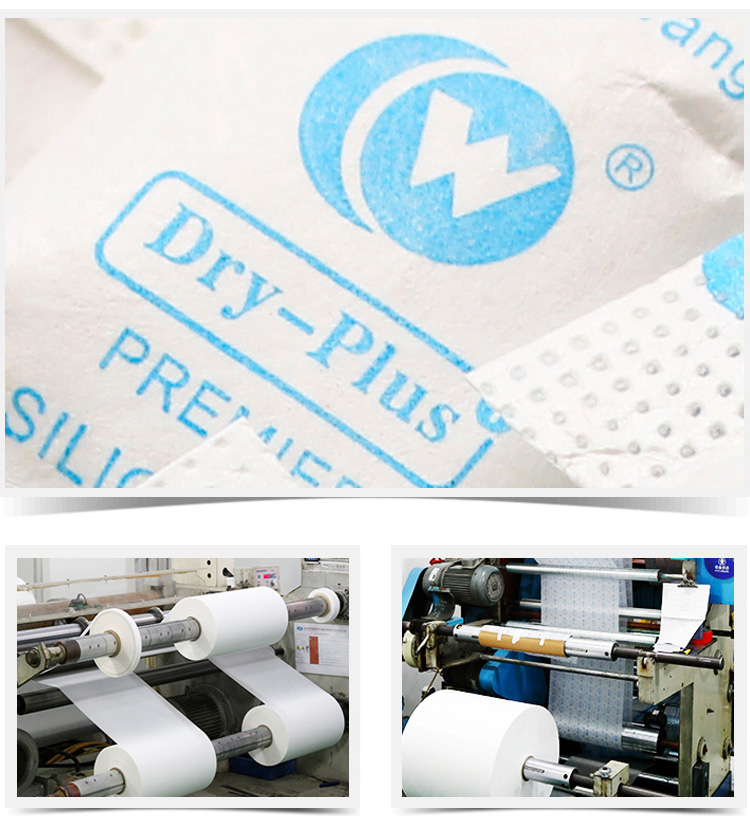 Quality safety and reliability
The packing material is sterilized by ultraviolet light, from the source to ensure the quality of products. No flaky fluorescence was observed under 365nm and 254nm uv lamps.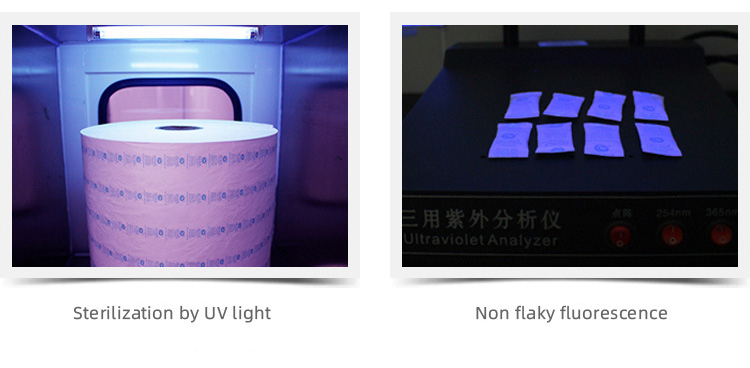 FDA Test Standard
According to the FDA testing standards for the selection and production of chunwang Pharm desiccant, meet the Pharmaceutical grade application requirements.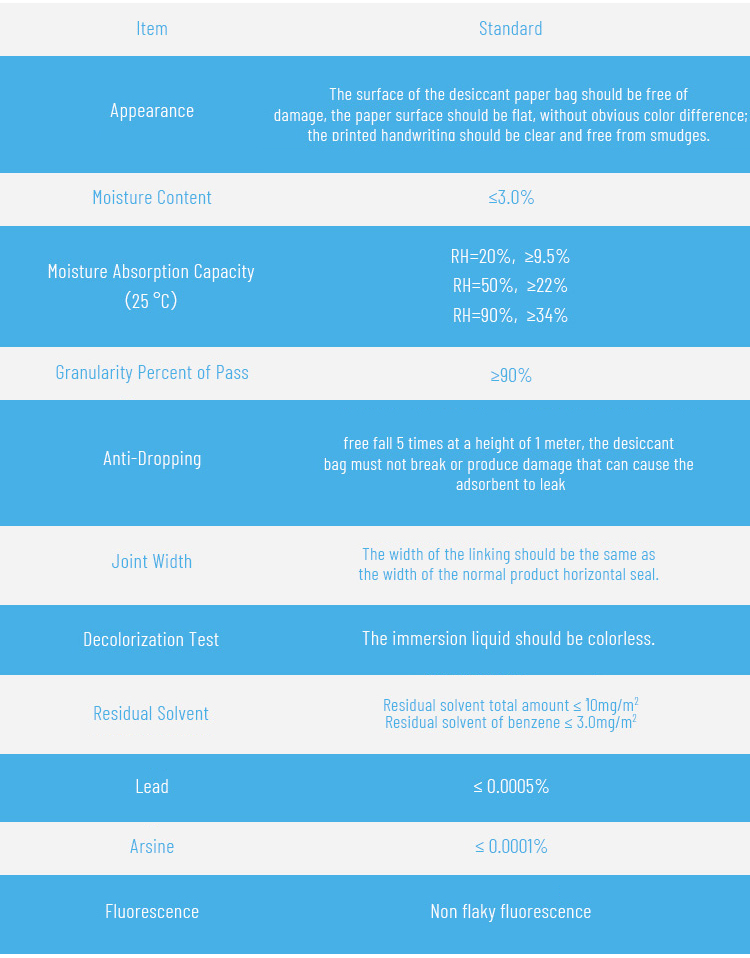 FDA Certificate
FDA (Food and Drug Administration), It is one of the executive agencies established by the U.S. government within the Department of Health and Human Services (DHHS) and Department of Public Health (PHS). It is responsible for ensuring the safety of food, cosmetics, medicine, biological agents, medical equipment and radiation products produced or imported into the United States.
Record number: 31936
* The latest certificate (within the validity period) can be provided by contacting our customer service staff.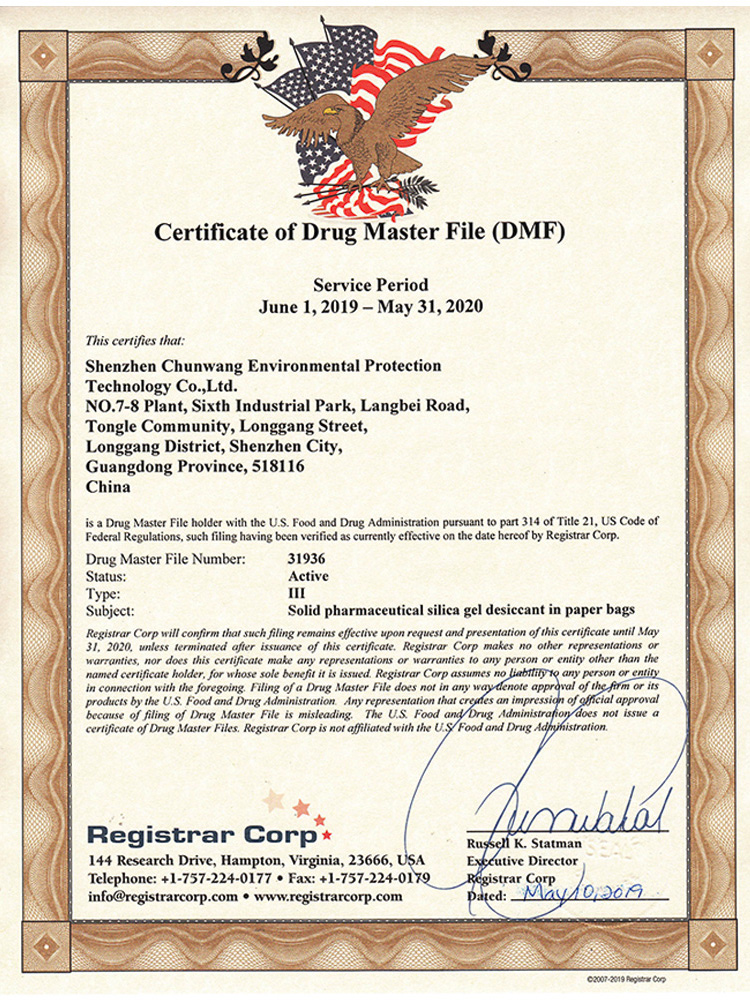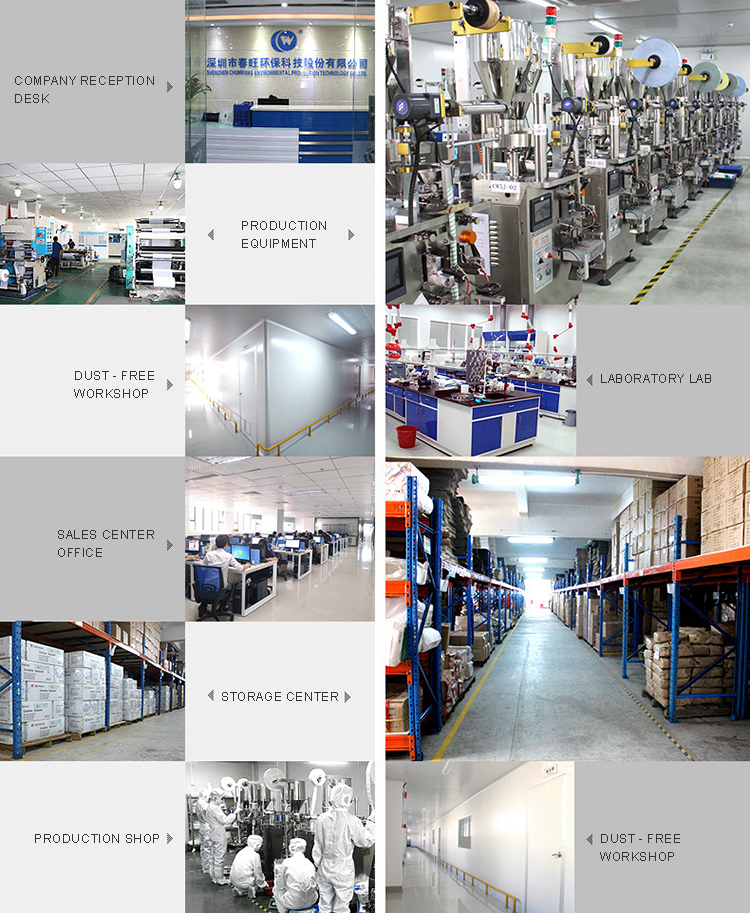 Chunwang VR: http://desiccant.chun-wang.com/chunwang_vr.html
*

Name:
Company name:
TEL:
Mobile:

*

E-mail:
Contact address:

*

Inquiry:
Please fill in the product name and quantity you want to inquiry.
VerCode:
Material: Silica gel bead
Standard: Pharmaceutical grade
Optional weight: 0.5g/ 1g/2g/3g/5g
Size: 17x36mm (0.5g)
20x40mm (1g)
20x55mm (2g)
28x55mm (3g)
28x65mm (5g)
Packing material: Tyvek paper
Printing: English
Packaging: 15000 PCS/12500PCS/6000PCS/4000PCS/3000PCS/CTN
Weight:5g
Size:45*60mm
Package material: wax paper
Raw material: transparent silica gel desiccant + orange silica gel desiccant
Indication method: after the moisture absorption is saturated, the indicator bead changes from orange to dark green
Application: it is basically applicable to all articles
Weight:1g
Optional weight:0.5-5g
Size:25 x 38 mm
Packing material:Aiwa paper
Print:English
Relevant Articles: