Email:denya@chun-wang.com
Address:Chunwang Industrial Park, Tongle Sixth Industrial Area, Longgang District , Shenzhen, China.
External Control Antistaling agent
Spec:50#
Other Spec:50#、100#、150#、200#、250#
Size: 40x 35 mm
Print:Chinese、English、Japanese
Raw materials:Edible starch、Silicon dioxide、 Edible alcohol

Introduction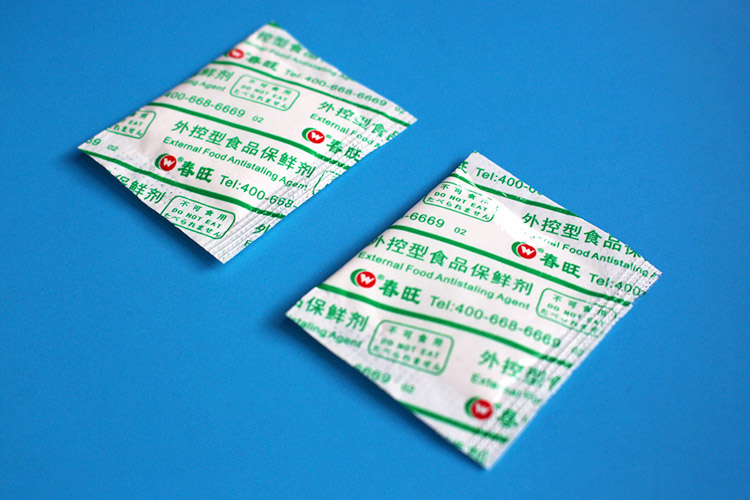 External control antistaling agent takes edible starch,silicon dioxide as a carrier,using microencapsulation technology absorbing alcohol consumption.
When using it can form a protective layer around the fresh food,Besides it will not be affected by the PH value of fresh food.
Be of double effects for disinfection and sterilization.Inhibit breeding of bacteria and spoilage bacteria,good effect of preservation.
Specification
| | | | | |
| --- | --- | --- | --- | --- |
| Model | Weight | Size(mm) | Packing | Scope |
| 50# | 1.1±0.15g | 40×35 | 400/BAG,8000/CTN | 20ML,10-20g |
| 100# | 1.6±0.15g | 46×40 | 300/BAG,6000/CTN | 30ML,20-30g |
| 150# | 2.0±0.15g | 50×40 | 200/BAG,4000/CTN | 40ML,30-40g |
| 200# | 2.3±0.2g | 54×40 | 150/BAG,2400/CTN | 50ML,40-50g |
| 250# | 2.7±0.2g | 58×45 | 100/BAG,2000/CTN | 80ML,50-80g |
Application
Moon cake,candy,cake,bread,rice cakes,rice dumplings,wet noodles,green bean cake,light pastry,wife cake,taro cake,mochi,cheese,herbs,dried squid,beef jerky,preserved pork and so on.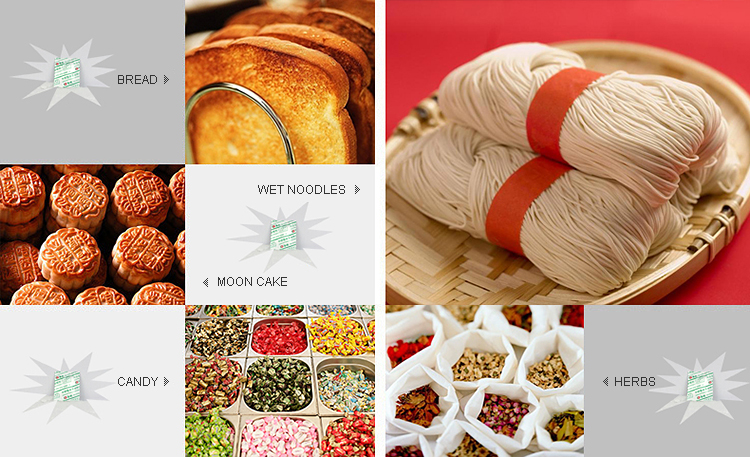 Notes
1)Please select before use the right type of antistaling sheet based on the category, moisture content, water activity and packaging size of food;
2)The applicable packaging that can be used with antistaling sheet includes OPP/PE, OPP/CPP, KNY/PE, OPP monomer and KOP/PE while NY/PE, CPP monomer and PE monomer are not recommended for being used as packaging in this case;
3)The antistaling sheet is volatile; please try to make sheets as tightly piled up as possible when using so that the effectiveness of the sheet would not exhaust in a short time;
4)Please use up all the antistaling sheets within 15 minutes after you open the packing, otherwise, please discharge the air in the packing soonest and reseal;
5)The antistaling sheet is not recommended to be used with the food that could ooze fat, for the food fat will easily cover up the surface of the sheet, preventing it from functioning;
6)Please pay great attention to keep the antistaling sheet away from flame due to its edible alcohol content; please store and use it in the cool and ventilated place;
7)The antistaling sheet could slightly affect the flavor of the food due to its edible alcohol content;
8)The antistaling sheet is non-toxic, but please do not eat.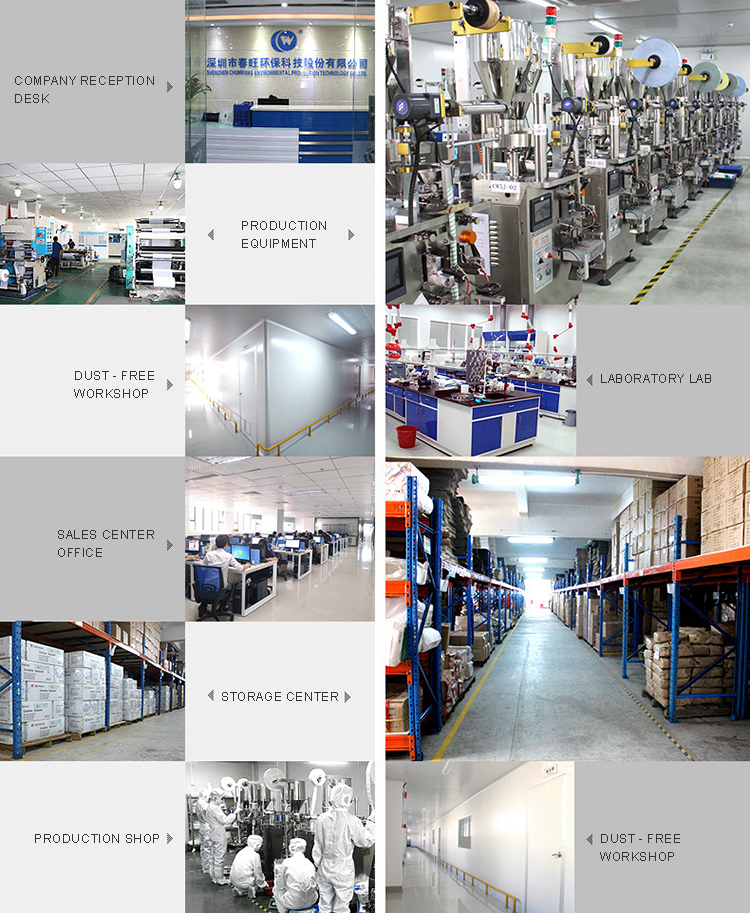 Chunwang VR: http://desiccant.chun-wang.com/chunwang_vr.html
*

Name:
Company name:
TEL:
Mobile:

*

E-mail:
Contact address:

*

Inquiry:
Please fill in the product name and quantity you want to inquiry.
VerCode:
Product category: Oxygen Absorber (With Indicator)
Raw materials:Iron powder、Activated carbon、Diatomaceous earth、Vermiculite、Sodium chloride、Water.
Spec:30CC/50C100CC
Packing qty: 8,000pcs/6,000pcs/4,000pcs per carton
Type: With Indicating line
Printing: Chines&English
Raw materials:Iron powder、Activated carbon、Diatomaceous earth、Vermiculite、Sodium chloride、Water.
Spec:20CC/30CC/50CC/100CC/200CC/250CC/300CC
Packing qty: 10,000pcs/8,000pcs/6,000pcs/4,000pcs/3,000pcs/2,200pcs/2,000pcs/1,800pcs
Type: high efficient general type
Printing: Chines&English with Eye Mark
Product category: Oxygen Absorber (Organic Type)
Raw materials:vitamins、carbonated alkali 、water retention agent 、aqueous alkali
Spec:30CC/50CC
Packing qty: 4,000pcs/3,000pcs per carton
Type: Organic
Printing: Chines&English
Relevant Articles: